When Do You Need an MRI for Knee Pain?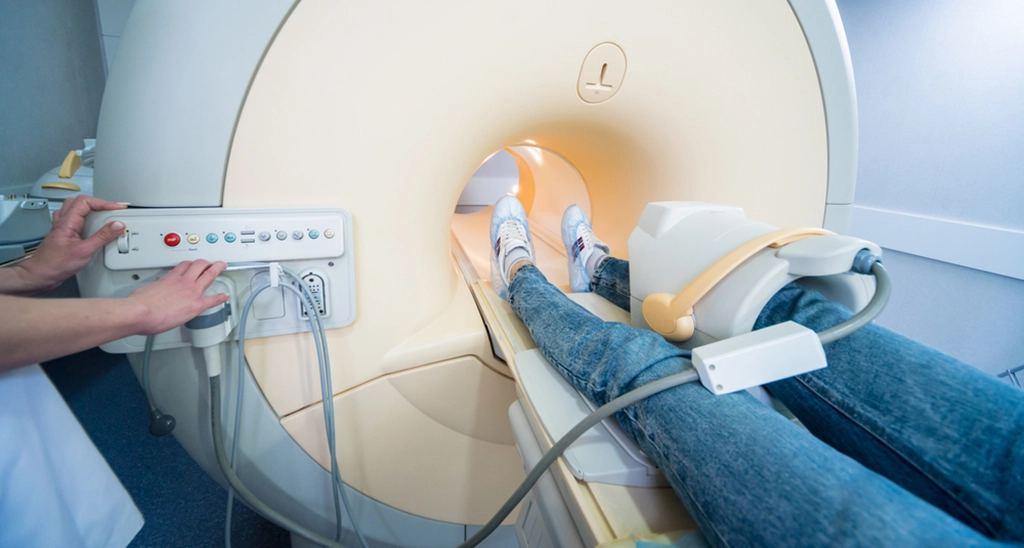 Knee pain can have a lot of different causes, and at SJRA, we want to empower you by getting you a diagnosis and the care you need. An MRI (magnetic resonance imaging) scan can help detect several different types of knee damage and is key to diagnosing the cause of knee pain, swelling, or weakness. If knee pain becomes an emergency or if you are in an unbearable amount of pain, are unable to walk, or if you just had a traumatic knee injury, stop reading and call 9-1-1 immediately. 
A doctor would order a knee MRI in order to make any of these diagnoses from a knee MRI: 
Damaged cartilage

Torn tendons or ligaments

Bone fractures

Osteoarthritis

Infections

Tumor

Build up fluid in the knee

Swelling

Internal bleeding

Post-trauma

Monitoring treatments

Sports-related injury

Problems with implanted devices
*having a knee MRI does not mean that you have any one of these diagnoses
What Is A Knee MRI?
MRI scans are the clearest interior body images on the market today. Because of this, nearly all knee injuries show up on an MRI scan. The most common knee injuries (inflammation, fluid in your joint, nerve damage, etc.) show up clearly and in great detail in an MR image. If you are experiencing knee pain, swelling, or weakness, your doctor will likely recommend you get an MRI to diagnose what is causing those symptoms. However, you can still get an MRI even if your doctor hasn't recommended it. At SJRA, we want you to have peace of mind about what's going on in your body, and getting a routine knee MRI could give you just that.
If you have knee pain, you should talk to your doctor. They will be able to address the specifics of your pain and take into account your medical history in order to create the best care plan moving forward. If your doctor recommends a knee MRI, they likely suspect you have some knee injury or issue they need to take a closer look at. A knee MRI can be key to diagnosing the reason behind your knee pain and discovering whether or not it is serious.
What Can A Knee MRI Detect?
An MRI is not necessary for diagnosing all knee pain and is mostly used in situations when your doctor needs more information about what is happening inside your knee area. One common knee injury that can be seen on an MRI is a meniscus tear. When you have suffered a meniscus tear, your knee pain is usually bearable. If you rest your leg, you might not even feel much pain. However, walking, standing, sitting, and those daily activities might be limited due to pain or discomfort. In order to diagnose a meniscus tear and create a treatment plan, a scan is required. This scan could be an X-ray, CT scan, or MRI.
Similarly, a torn ligament can be diagnosed with an MRI. A torn ligament can limit daily activities and be painful. This sort of knee injury requires surgery or an operation, which means an MRI can be a useful pre-operative tool to help your doctors better understand the tear and plan the procedure. 
 An MRI can also help diagnose and treat arthritis in your knees. Arthritis in your knees usually feels like creaking, clicking, or grinding, which can lead to difficulty walking or doing daily activities. Your knee arthritis might not always hurt consistently, but often people with arthritis have intense flair-ups of pain. Osteoarthritis is often accompanied by knee pain, stiffness in your joints, or even loss of flexibility. Because osteoarthritis involves the wearing down of cartilage, an MRI will provide a detailed analysis of how much wear and tear has occurred. To diagnose and properly treat and monitor osteoarthritis, you will need an MRI.
How Do I Prepare For A Knee MRI?
Preparing for a knee MRI is simple: eat, drink, and medicate as normal (unless your doctor has told you otherwise). Wear comfortable, loose clothing without any metal in it. If your clothing does have metal in it, you will be asked to change into a hospital gown. You're free to wear pants, socks, bras, etc., as long as they don't have metal clasps, wires, zippers, or buttons. Remove all jewelry before your MRI appointment. Don't wear makeup, deodorant, or any lotions to your MRI because these can contain microscopic bits of metal that can heat up and hurt you inside the machine. For a knee MRI, your entire body won't be fully inside the machine, but you should still adhere to these recommendations.
What Happens During A Knee MRI?
Your knee MRI appointment will likely last around 45 minutes. If you are getting an MRI with contrast, you should arrive 15-30 minutes before your appointment for the radiologist to inject the contrast solution. An MRI takes this long because they are taking hundreds of images – capturing individual slices in order to create a detailed copy of the inside of your knee. You will need to lie still on your back for nearly the entirety of your MRI, but you will have an intercom you can use to communicate with your radiologist, who will let you know if you can hold still, relax, or change positions. Thankfully, you can get an MRI on both knees at the same time, which can speed up the process. 
Many people who get MRIs experience claustrophobia. With a knee MRI, this can be less of an issue because you will likely not need to go fully inside the machine. People have said having their heads out of the machine helps them feel less anxious. If you do start to panic during an MRI do not attempt to get out of the machine yourself. There is a panic button inside the machine that you can press. Communicate as best you can with your radiologist. The bed will slide out of the machine, but remember: stopping your scan means you will have to start over. If you are especially nervous about your MRI, talk to your doctor about what sedation options are available for you. 
You will be able to leave right after your appointment (if you were sedated, you will need to arrange for someone to drive you home afterward). You will get your knee MRI results back after 48 – 72 hours. If your results show an emergency, your doctor will get you emergency care right away.
Getting an MRI of your knee seems like a lot of work, but at SJRA, we streamline this process to get you the care and scans you need. When it comes to knee pain, there can be a lot of different culprits. The best scan to discover the reason for your pain is an MRI. Your doctor might recommend a CT scan in an emergency or if you need results quickly. While a CT scan can diagnose some causes of knee pain, an MRI can diagnose more. Talk to your doctor about which scan is right for you and schedule yours today at SJRA.
Our team is ready and waiting to help you set up your MRI appointment with SJRA at any of the following locations:
Learn more about the board-certified subspecialized radiologists who read and interpret studies at SJRA here.
Frequently Asked Questions