How Do I Prepare For An MRI?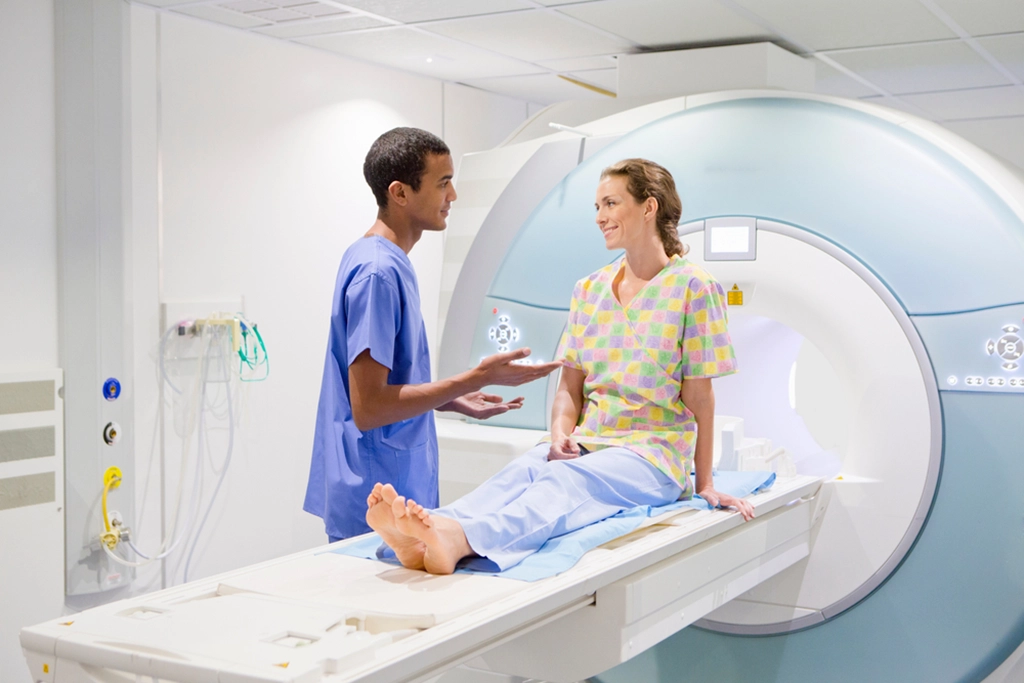 An MRI is the perfect scan for people who don't want to disrupt their normal routines. Preparation for getting an MRI (magnetic resonance imaging) is as simple as maintaining your regular routine when it comes to eating, drinking, and medicating. In the days preceding your scan, don't do anything out of the ordinary – no new piercings or new medications. Follow your doctor's instructions. On the day of your MRI, you can eat and drink like normal, although in some cases you might have to stop 1-4 hours ahead of your appointment. Because an MRI can scan pretty much any part of your body, there are some differences in preparation depending on what is being scanned. 
One type of MRI is an MRI with contrast. This just means that your doctor will have you ingest some contrast dye (this could be something you drink or something that is given intravenously). You should arrive 15-30 minutes early to your MRI appointment to get the contrast solution. In order for it to show up clearest, please try to limit eating and drinking 4 hours before your appointment. Other than those things, your preparation will not be any different than a regular MRI without contrast.
What Should I Do Before My MRI?
It's important not to drink a lot of caffeine before your MRI because caffeine will make your blood vessels constrict. If your scan is monitoring blood flow, constricted blood vessels will give you inaccurate results. However, it is also important that you don't totally eliminate your caffeine intake on the day of your scan, either, because that will also offer results that don't reflect your normal, daily blood flow. On the day of your MRI, drink the amount of caffeine you normally would so that your results will reflect a regular day for you. 
Try to limit the amount of water you drink right before your scan. Getting an MRI can take between 15-90 minutes, so remember to use the restroom before your scan begins because you won't get another chance until your scan is over. Usually, if you stop drinking water for 1-2 hours before your appointment, you should be all right. 
You do not have to fast before your MRI – with or without contrast. When you do eat, though, try to stay away from heavy, greasy foods. Lighter meals made of fruits, vegetables, beans, etc. are better for the day of your scan. It is also wise to stop eating somewhere between 1-4 hours before your appointment.
On the day of your exam, be sure to shower, but do not apply lotion, deodorant, or moisturizer. These creams can sometimes contain microscopic bits of metal that can negatively interact with the magnet inside the MRI machine and damage your skin. In the same way, you should not wear makeup, mascara, or nail polish to your MRI as they might contain metal. Do not wear wigs or put any product in your hair. 
Don't put on any jewelry. Gold rings that are made entirely of gold are allowed to be worn, but not gold-plated or gold mixed with a different metal. Wearing metal inside the MRI machine is dangerous because the machine itself is basically a huge magnet. The metal will be drawn to the magnet, and will heat up or even fly off your body in ways that could hurt you. In order to keep you safe, please be sure to leave all jewelry and metal items outside the machine. If you have a ring that you cannot get off, your last resort would be to go to a jeweler and have them remove it (often this means cutting or breaking the ring). The metal in cavity fillings on your teeth is safe to be inside the MRI machine. Dental crowns are also allowed inside the MRI machine, as long as they are porcelain, resin, or solid gold. 
When it comes to clothing, wear loose, comfortable-fitting clothes to your appointment. Be sure to wear clothing that does not have any metal in it (zippers, buttons, etc.). If your clothes do have metal in them, you'll be given a hospital gown to change into for your scan. Normally you can wear your underwear and socks during the scan, unless your radiologist is concerned about metal microfibers. For women, you can wear a bra inside the MRI machine as long as it doesn't contain any metal (clasp, underwire, etc.).
What Happens During An MRI?
Your MRI appointment can take anywhere from 15-90 minutes, during which you'll have to lay as still as possible in order to capture clear, quality images. You may be asked to hold your breath for 10-20 seconds depending on what part of your body is being imaged. You can have your eyes open during the scan, although some patients find that closing their eyes or putting a washcloth over them helps keep their nerves calm. If you close your eyes, though, please be sure not to fall asleep. While you sleep, your body can twitch and move, ruining the MR images being taken. 
At SJRA we will provide you with a headrest, washcloth to cover your eyes and blanket. You can also request earplugs or special headphones that are safe to use inside the machine. Unfortunately, you are not allowed to use AirPods inside the MRI machine because they are metal.
What If I Am Nervous For My MRI?
If you are nervous about your MRI, you are not alone. Your comfort is our highest priority, so if you are feeling anxious about being claustrophobic during your MRI scan, try to practice breathing exercises as part of your preparation. Stretch before your scan begins and during your scan, close your eyes and picture yourself somewhere else. If you start to panic, there is a panic button you can press that will slide the bed out of the machine. Although many patients say even just having the option of the panic button helps them, remember that if you press it you will have to start your scan over. 
If you are still overwhelmed, talk to your doctor about sedation options. If you choose to be sedated for your MRI, make sure to organize to have someone pick you up from your appointment. If – for some reason – you aren't able to be sedated, there are several other alternative MRI machines that offer a wider or more open MRI experience. An Open MRI machine is just that: open on three sides so that your body is never fully enclosed inside the magnet. SJRA offers a Wide Bore MRI machine, which is a bigger, wider version of a regular MRI machine. Talk to your doctor about these alternative options and schedule your appointment with SJRA today.
Are There Any After Effects Of An MRI?
After your appointment, you might feel tired or even have a headache. Although there are no side effects to getting an MRI, these are common because of the mental strain and stress of this scan. The lights and loud machinery noises can also contribute. If you got an MRI with contrast, you may feel those symptoms as well as nausea or itching at the injection site. If these symptoms persist, contact your doctor. Your MRI results will be sent to your doctor after your scan is over. Your doctor will contact you within 3-7 business days to go over your results with you. 
Getting an MRI scan is stressful enough – preparing should be the least of your worries. If the helpful tips in this article offer any relief, your MRI appointment with SJRA will be a breeze. Contact us at any of the following locations to schedule an appointment with us:
Learn more about the board-certified sub-specialized radiologists who read and interpret studies at SJRA here.
Frequently Asked Questions